From: Pickleball Scoop by Pickleball Canada
It is a basic right for every person to be active and participate in sports. Pickleball is one of the rare sports where disabled and able bodied athletes can compete in the same game together. This makes our sport one of the most inclusive sports around.

Para pickleball is growing in popularity and there are many tournaments in Canada and the USA where you can see wheelchair pickleball players compete for medals. Often, they compete in hybrid style doubles (the term given to a para player playing against and with standing players) and the only major difference in rules is that a wheelchair player is allowed a double bounce.


 

In order to further promote para pickleball it is important to properly address coaches development, as well as the lack of facilities and funding for training and development of para pickleball athletes.


Abilities Centre in Whitby, Ontario, one of the only organizations in Canada with a comprehensive approach to inclusion and accessibility, teamed up with Pickleball Ontario and coach Alex Stojkov, to run para pickleball clinics.

In the pickleball community known as a "big bruh", "pickleball papi" or even a "cute shoes", Alex is part of the expert group that leads the way in developing the National Coaching Certification Program for pickleball. He facilitates NCCP coaching pilot clinics around the province. Currently, Alex works as a pickleball pro at Abilities Centre with players of all levels, but more specifically, he is instrumental in developing para pickleball and high performance pickleball athletes.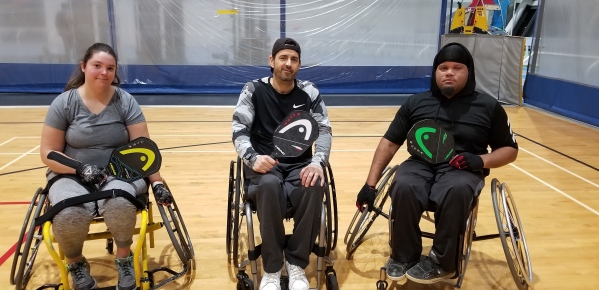 Amanda Power, P.J. Corvese and Elijah Stoutt are happy they finally have a place where they can practice regularly and further advance their pickleball game. Because of the current pandemic situation, they missed this year Nationals and Provincials, but they are working hard and hope to have a chance to represent Canada in the forthcoming US Open.  


If you would like to learn more about para pickleball or discuss how you could engage more para athletes to play the sport, contact coach Alex, PCO, or your local provincial pickleball organization.

Alex can be reached at info@hisports.ca
---
1 comment
---
---